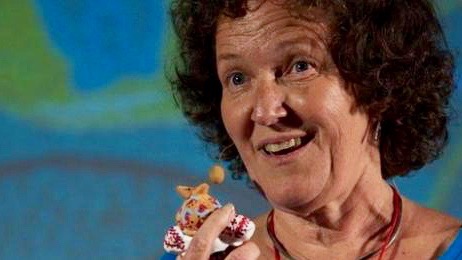 Frameworks for Inspiring Change
Två dagar med Bliss Browne i oktober – för inspiration om mobilisering och involvering
Den 15-16 oktober kommer Bliss Browne till Stockholm för att hålla en två dagars-utbildning som riktar sig till dig som arbetar med processer som kräver mobilisering och involvering av olika aktörer och perspektiv. Oavsett sektor och samhällsområde är utbildningen relevant för alla som arbetar med utveckling och förändring av olika slag.
Bliss Browne grundade initiativet Imagine Chicago (www.imaginechicago.org), ett initiativ som skapade stor förändring och som har inspirerat många i andra delar av världen. Bliss har en gedigen erfarenhet av att leda involverande processer som skapar hopp, framtidstro och stort lokalt engagemang för en bättre framtid. Vi kommer under utbildningen fördjupa oss i Appreciative Inquiry, det kraftfulla förhållnings- och tillvägagångssätt hon har använt sig av för att ta tillvara närvarande resurser och potential.
När: 15-16 Oktober
Var: Stockholm, plats meddelas senare
Kursavgift: 6 750:- ex moms
Mer info och anmälan här: www.navsweden.se/event
10-12 oktober är Bliss tillgänglig för olika projekt i Stockholmsområdet som vill ha inspel, inspiration och vägledning. Anmäl er på hemsidan om intresse finns. 
Arrangörer: Länka Consulting och NAV Sweden
Frågor?
Mejla:
karoline.bottheim@lankaconsulting.se
daniel@navsweden.se
---
Frameworks for Inspiring Change
Stockholm, 15-16 october 2018
presented by 
Bliss W. Browne, President, Imagine Chicago   bliss@imaginechicago.org
www.imaginechicago.org
Would you like to be able to inspire constructive engagement and create a culture of hope within yourself, your organization or your community?
Do you want to learn to ask better questions and establish practices
that motivate positive behavior shifts?
Are you seeking better ways to align actions around a personal or shared goal?
With so much involuntary change underway, it is especially important for leaders and change managers to be able to help individuals and organizations to re-conceptualize their identities constructively based on new goals, values and choices.
In this hands-on, "train-the-trainer" workshop you will learn and apply the power and effectiveness of Imagine Chicago's pioneering frameworks for building community (which have inspired a global movement of social innovation on six continents), Appreciative Inquiry and Asset Based Community Development and learn to apply it to the work you do with individuals and organizations.
Key Topics include:
· Opening space for radical acceptance
. Understanding social construction
. Creating reliably constructive partnerships across differences of gender, age and culture
. Inspiring a sense of possibility
· Strengthening questioning, listening and speaking skills
· Shifting (and helping others shift) from deficit-based to
strength based mindsets and communications
· Understanding the impact of strength-based vs. deficit-based
assessment of individuals and communities
· Empowering constructive choices and collaborations
Imagine Chicago's proven frameworks for inspiring constructive engagement will be taught by Bliss Browne www.imaginechicago.org/
founder and President of Imagine Chicago, who pioneered them.
Come learn and practice creative ways to elicit vision and hope, build on strengths, and inspire constructive engagement and action.  This is an interactive course which includes extensive training materials with permission to adapt them for use in other settings.